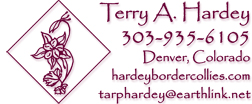 November 2008

I am a Graphic Artist, as reflected in my working résumé, however, I also have experience and background in working with dogs and their owners/handlers. Over the years, I have shared my home with many dogs, cats and birds. Both backgrounds are included in this résumé.

I am interested in ft/pt positions or freelance work in the Denver/Metro and Front Range area of Colorado, in the following categories: Desktop Publishing, Computer Graphics, Freelance Designing. I am also interested in Pet industry positions.

My background includes:

• Logos / Business Cards / Letterheads

• Brochures

• Magazine Ad Design

• Photo Manipulation

• Layout / Desktop Publishing

• Newsletters / Small Newspapers

• Pet Portraiture

• Logo Goods

• Posters

• Event Maps / Event programs,

• Instructional Materials,

• Instruction in Adobe Illustrator, Adobe Photoshop, QuarkXpress.

Some information which is not actually reflected in my résumé:

• I am experienced in grammatical and typographical proof reading.

• I am comfortable working with people one on one and explaining how to prepare their graphic files for clean and easy output.

• I have experience in working with business owners, tracking product and advertising materials.

• I have an ability to learn something, then turn around and teach it.

• I am comfortable talking to groups of people.

• I have six years experience as a sales rep., and daily deliveries of product (newspapers), into stores on a route.

• I am comfortable working with people one on one and explaining how to bond with, and train, their dogs.

I look forward to discussing the positions you currently have open.

References are available upon request.

My online portfolios are posted at

www.hardeybordercollies.com

under

"Terry's Portfolio"

and

"Pet Portraits by Terry."

Sincerely,

Terry Hardey
---
---
Professional Category: Graphic Design

Professional Subcategories:

Logos / Business Cards / Letterheads
Brochures
Newsletters, small newspapers
Magazine Ad Design
Photo Manipulation
Logo Goods
Layout / Desktop Publishing
Posters
Pet Portraiture
Event Maps / Event programs
Instructional Materials

Industry Experiences:

Computer Graphic Art Instructor,
Small Business Owner,
Pet Care,
Travel Agencies,
Psychotherapy,
Real Estate,
Non-Profit,
Celtic,
Emergency Medicine,
Canada Goose Control on turf.

Software Skills:

Adobe Photoshop,
Adobe Illustrator,
Corel Painter,
QuarkXPress,
Adobe InDesign,
Adobe ImageReady,
Trellex.

Past experience in:

Freehand,
PageMaker,
PowerPoint,
Keynote,
NetObjects Fusion.

Graphic Art Skills:

Creation of graphics in Illustrator, Photoshop and Painter.

Design, layout, and production of B & W, 4 color, and 2 color magazine ads, from just a hint of copy/vendor information to shipment of final product.

Handling of photos from transparencies/continuous tone through scanning, color correction and changes to final output.

Creation/manipulation of photos, copy, logos, clip art and designs into graphics for use in ads, brochures, newsletters, corporate flyers and multimedia.

Layout and design of various brochures, flyers, small newspapers and newsletters; B&W, 2-4 color.

Designing with type, copyfitting, type specifications, kerning, leading.

Other Related Skills:

Five years teaching Computer Graphics, Illustrator, Photoshop, QuarkXPress, PageMaker, Freehand and the creation and use of web graphics.
5 years on the planning committee for Rocky Mountain Highland Games, Logistics, planning layout of the field, tents for vendors, demonstrations, etc., and creating the map with a 15 foot grid, used for placing of tents, as well as the centerfold in the Games program.


---
---

Professional Category: Dog Handling Experience

Business owner, Hardey Border Collie Goose Patrol—we just completed our 5th season of Canada Goose Control.

4 1/2 years with D.E.O. Speedwaggin' Flyball Club, competing in state and out of state, with 3 of my dogs. Am serving on the training Committee and class trainer, instructing class members in how to train and handle their dogs in Flyball.

2 years with Search and Rescue Dogs of Colorado, tracking and air scenting.

Several years of training Border Collies for herding sheep, have competed in several local sheep dog trials. Assisted with the set up and running of trials, with Mountain and Plains Border Collie Association.
Arranging for and managing demonstrations of Flyball. Answering questions and explaining the sport, as well as running my dogs. We have held demos at various shelter fund raisers in the area, the National Western Stock Show, and the Rocky Mountain Highland Games.
2 years with Colorado Border Collie Rescue, fostering dogs, promoting Rescue at various functions.
5 years on the planning committee for Rocky Mountain Highland Games, Dogs of the British Isles, Flyball demonstration and last year a U-Fli tournament.

2 years Animal/Dog control officer, Park County, in the 1970's.



---
---

Professional Category: Other

Fourteen years in Emergency Medical Services, Emergency Medical Technician (& renewals), Advanced First Aid & Instructor (& renewals), C.P.R. & Instructor (& renewals). Multiple classes and seminars for Evacuation, Triage, I.V. Therapy, Driver Trainer, and Mountain Rescue.

5 years serving as occasional Matron escort for Park County Sheriff's Department

Two years in Emergency Medical Services, Emergency Medical Technician Intermediate; among the first ever Licensed by State of Colorado.

Six years managing one of the largest bulk delivery routes in Phoenix for Phoenix Newspapers: Maintained and added locations to the route, and trained personnel; coordinated schedules, loading, routing, and deliveries. Administered the route through two major re-alignments; readjusting the routing of deliveries, increased the volume of newly acquired areas.



---
---

Education:
Associate of Occupational Studies Degree in Advanced Computer Graphic Design, (summa cum laude); Platt College, Aurora, Colorado.

B.A. in Animal Science, emphasis on Genetics. Colorado State University.

Emergency Medical Technician Intermediate; Licensed by State of Colorado.


---
---

Employment History:
2001 – now Business owner, Hardey Border Collie Goose Patrol
2001 – now Freelance Graphic Art
May to November 2006 – Quicksilver Courier
2000 – 2002 Desktop Publishing, People House Newspaper
1998 – 2001 Instructor, Computer Graphics, Platt College, Aurora, Colorado.
1995 – 1998 Graphic Artist and Desk Top Publishing, Camelot Travel Services, Englewood, Colorado.
1996 – 1997 Teachers Assistant, Computer Graphic Art, Platt College, Aurora, Colorado.
1995 – 1995 Courier, Camelot Travel Services.
1992 – 1994 Independent Route Operator, Single Copy Sales (bulk delivery) Phoenix Newspapers: Arizona Republic & Phoenix Gazette.


********************